SALES SUMMARY
Yes, sales for the first two weeks of March were excellent for that time of year. Then the shut down and social distancing was put into place. We have shown in the Graph below (Figure 1), the Weekly Sales for the GTA from March 1st to April 11 (six weeks). From the peak to the most recent week, the decline is 85%.

Real Estate is deemed to be an essential service. Our agents are able to help those people in the middle of a transaction and those people who are forced to move due to personal circumstances. All our offices are closed, not only to the public but to our agents as well. Most showings are only to vacant properties. We do have virtual showings and virtual open houses. However, most people want to view the property in-person at some point which provides a challenge to our industry.

As you are aware, we do focus on condos and Figure 2 shows the Weekly Sales and Leases for Downtown and the Humber Bay markets over the same six weeks. From the peak, condo sales are off by 73% and condo leases by 69%.

Listings have also slowed during this same period, but sales have fallen faster. Now we are starting to see a build-up of listing inventory. Buyers are sensing that prices will soon fall. How far prices will fall depends on two factors: how long will the stay-at-home mandate last and how long can some owners keep their properties? We are not medical experts, but our guess is that one should plan on mid-June for a limited opening. The second question is harder to guess. If owners have enough equity in their property, then lenders will be happy to defer or restructure payments and add them to the back end of the mortgage balance. And with courts being closed, for now, any foreclosure or power-of-sale orders are at least a year away.  That gives breathing room for owners.

On that basis, we believe that prices will come off at most 10% and more likely in the 5% range from February prices. Those people waiting (some since 2008) for a real estate crash will probably have to wait several years longer. 
WEEKLY GTA SALES - MARCH 2020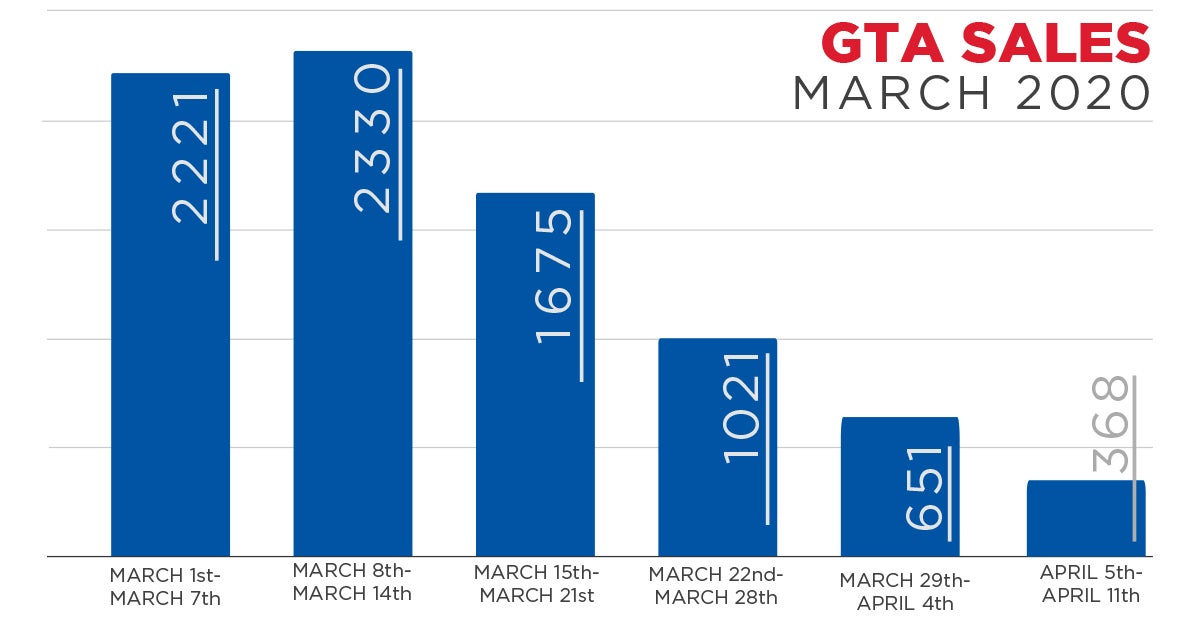 This Graph plots the weekly sales for the Greater Toronto Area from March 1st to April 11th. We can see how the shut down and social distancing has resulted in a decline of 85%.

There were over 1100 condos rented downtown in March. Of these 730 were one-bedroom units. But just like condo sales, downtown leases dropped by 70% from the peak week (March 8-14) to the week ending April 10. See Table 2 for our weekly summary. 

The big fear for landlords is whether tenants will continue to pay rent. Surveys suggest that 85% of tenants did that for April 1st. But the real test will come with June's rent. It is true that tenants can stop paying rent and not be evicted. The Rental Tribunal and Small Claims Court have been suspended with Covid-19 and with the backlog, our guess is that the catch up will take a year. That being said, not paying rent only creates a deferral and not a waiver of a tenant's responsibilities. Imagine if the economy returns in September and now a tenant owes four months rent all at once. Our suggestion at this time is for both the landlord and tenant to talk to see if they can work out a reasonable solution for both.

With the economy shut down for the most part, rents have levelled off, and in some buildings have declined by about $50 per month. Studios units are averaging $1850 per month. The basic one bedroom with parking averages $2400. A one bedroom with den but no parking is $2350. The entry point for the two bedroom, without parking, and just one washroom is $2700. Units with two washrooms, also without parking are renting for $3,000. Three bedroom units are renting for over $4,000 per month.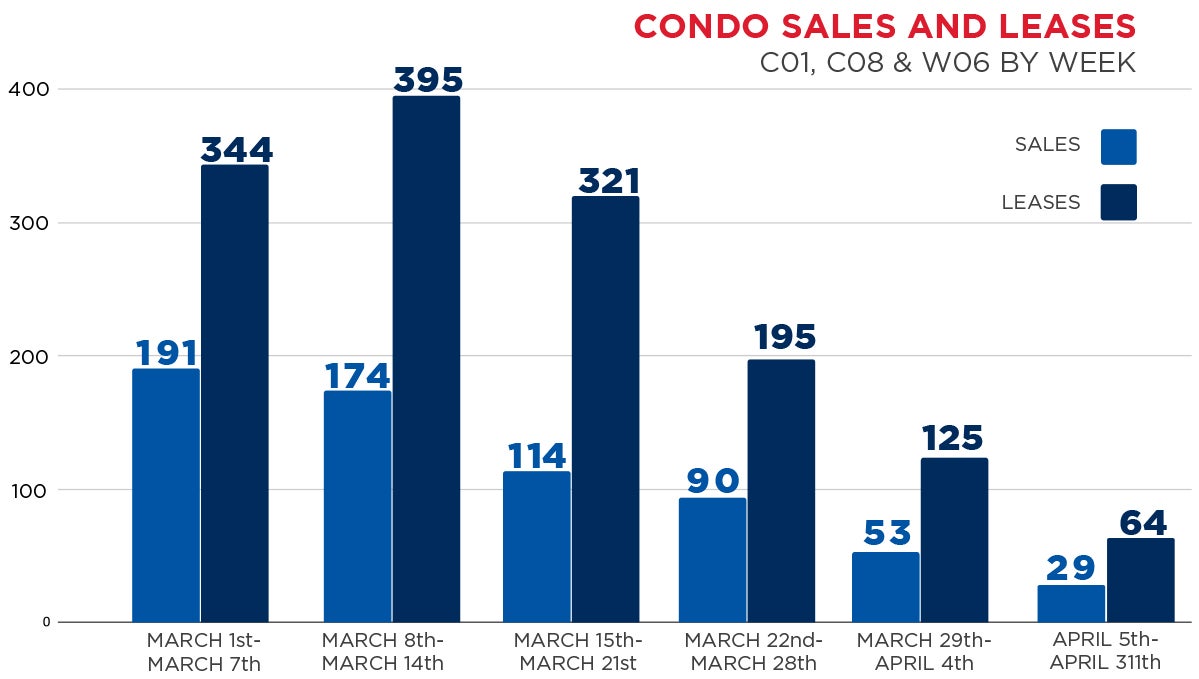 This Graph plots the weekly condo sales and leases for downtown Toronto and Humber Bay Shores (C01,C08 and W06) from March 1st to April 11th, 2020. From the peak, condo sales are off by 73% and condo leases by 69%.